Camping on the Côte d'Azur, south of Provence in a well-facilitated area at camping La Foux. Enjoy this campsite with family Burgundian conviviality, close to Fréjus, Saint Tropez and the beach. In short, an exceptionally attractive holiday destination.
Camping La Foux is located in an exceptionally beautiful setting. A cozy typically French campsite in a pleasantly warm Mediterranean climate. The temperatures and the sun are so pleasant in the early and/or late season that you can even extend the summer feeling with this. This is really another campsite where good camping is paramount. Of course there is plenty to do here and there is enough organized for young and old to give the guests a top holiday. A large swimming pool for relaxing laps, the other pool for floating or the bubbling jacuzzi, provide sufficient cooling during your stay. if this is not enough, there is also a large Aquaparc nearby.

Download the map
Of course you can enjoy a good meal in the restaurant or on the terrace. Even from the surrounding area people like to experience the gastronomy here. But right outside the campsite there is also plenty of fast food to luxury restaurants. Picking up a meal such as a pizza is also possible here. On the Jeux-de-boules track you will experience the ultimate French experience. The campsite has various fun activities such as aqua gym, animation, kids club, beautiful shows, bingo, karaoke, open air disco, dance evenings such as salsa, etc. They are mainly in French. Of course there is play equipment for them on the camping site.
Because the campsite is so close to Draguignan, this offers a range of extras! (Restaurants, terraces, ice cream parlor, shops, supermarket, rental, markets, culture, activities etc.)
Facilities
General
Camping reception
Point of contact on behalf of Koko Holidays
Playground
Laundry service
Dutch administrators of Koko Holidays
Charging station car (700m from the campsite)
Gas station (700m from the campsite)
Bank/ATM (1500m from the campsite)
Swimming
Swimming pools (June 20 to September 20)
Jacuzzi
Aqualand Fréjus (26 km from the campsite)
Aqualand St. Maxim (25 km from the campsite)
Food and drinks
Restaurant
Bar
Terrace
Pizzeria
Restaurant (1500m from the campsite; McDonald's, Pizzeria)
Restaurant (700m from the campsite; Burger King, Buffalo Grill)
Shops
Bread sale
Supermarket (700m from the campsite; Lidl)
Supermarket (1500m from the campsite; Carrefour)
Shopping center (1500m from the campsite)
Supermarket (1500m from the campsite; Aldi)
Sports
Volley-ball
Basketball
Sports field
mini golf
Jeu de boules court
Table tennis tables
Tennis (300m from the campsite)
Horse riding (300m from the campsite)
Fitness trail (300m from the campsite)
Internet
Free internet and WiFi (limited number of devices per place)
No 100% coverage over the entire campsite
Animation
Disco or dance evening (not every evening)
Various shows
Animation
Pets
Pets are allowed, but there are costs involved and must be communicated in advance.
(Max. 2 pets per accommodation)
Pets must be on a leash at all times.
A pet is standard based on a dog, if this deviates, this must be approved in advance.
National rules apply to traveling with pets, inquire about this.
Barbecue
Barbecuing with coal is allowed in appropriate weather conditions.
Barbecuing on gas is allowed using your own gas bottle.
Barbecuing on electricity is allowed with max. 1300 watts.
Attention
The campsite may limit facilities in low season based on weather conditions and occupancy.
If a limitation has been reported in advance, we have noted this behind the relevant facility.
There may be costs associated with some facilities, if this is known in advance, we have indicated this.
Location
Campsite La Foux
933 Chem. de Saint-Jean la Foux
83300 DRAGUIGNAN
France

Distance from Dover: 770 miles
Calculate route
Surroundings
It goes without saying that Provence and especially the Côte d'Azur is an exceptionally attractive holiday area for most people. From your accommodation you have a view of the Roquebrune, the imposing steep rock formation on the border of the limestone mountains, the Massif des Maures. The rolling slopes with lavender, the mimosa, the barren plateaus, the limestone mountains, the jagged rock formations, the deep carved valleys (canyons) with wild rivers, breathtaking views, the forests, the olive groves, picturesque villages, historic cities, and the smell of flowers, trees and herbs abound. In a word, a unique region. The sun, the pleasant temperature and the Mediterranean Sea, with its beautiful beaches and bays, complete the picture. The beach is only a 20 minute drive away. The campsite is within walking distance of the town of Draguignan, famous for its market, and close to Fréjus. This historic city is well worth a visit, not only culturally, but also because there is much to do and see. St. Maxime is also nearby, the cozy village with a beautiful harbor, tasty eateries and beautiful beaches. But also the fashionable and opulent seaside resorts such as Nice, Antibes, Saint Tropez or Monaco should not be missing from your program. Also not to be missed is a trip to Port Grimaund (The Venice of France)
Even Italy is part of a trip, the seaside resort of Sanremo is within driving distance of the campsite.
The real swimmers cannot do without a visit to one of the Aqualands! The slide and water paradise that should not be missed. Whether with tires, long, dark or stylish, all wishes are met here!
For the sports enthusiasts among you, La Foux is an ideal base for a brisk walk, an intensive mountain bike ride, a canoe or kayak trip, sport fishing, sailing or surfing. If you want to take it a little easier, there are plenty of walking, mountain bike tours and activities in the area that are less extreme. The Gorges du Verdon, a bit from the campsite, provides unforgettable views. The raging mountain river makes its way through the deeply carved valley. There is plenty to do and enjoy here on the Côte d'Azur, making this place the 'place to be'.
Accommodations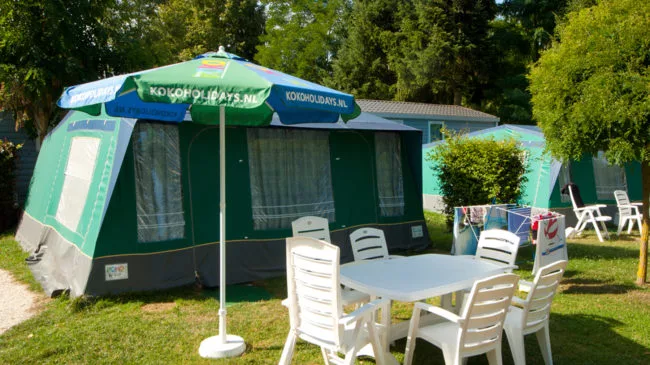 Fully furnished luxury bungalow tent (max. 6 people)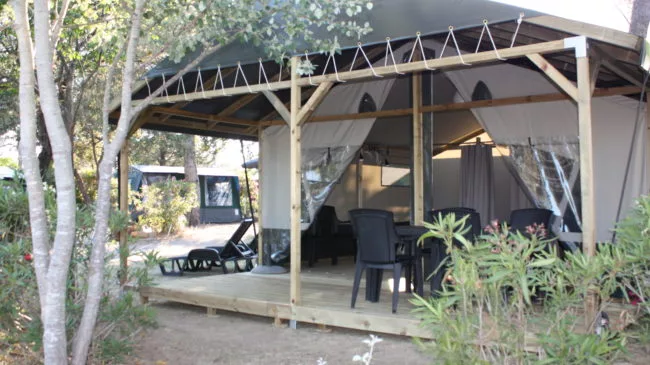 Fully furnished extra luxury lodge tent (max. 6 people)