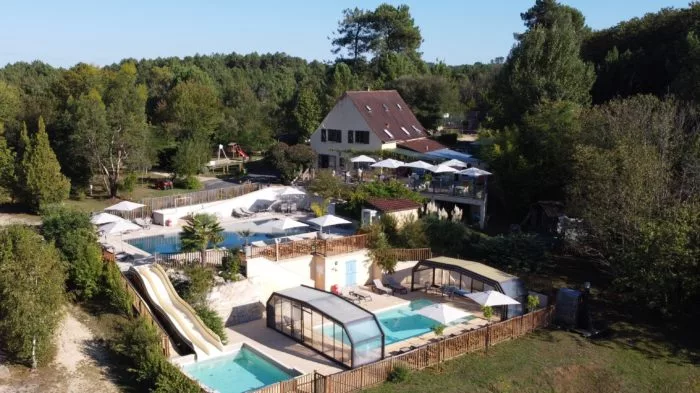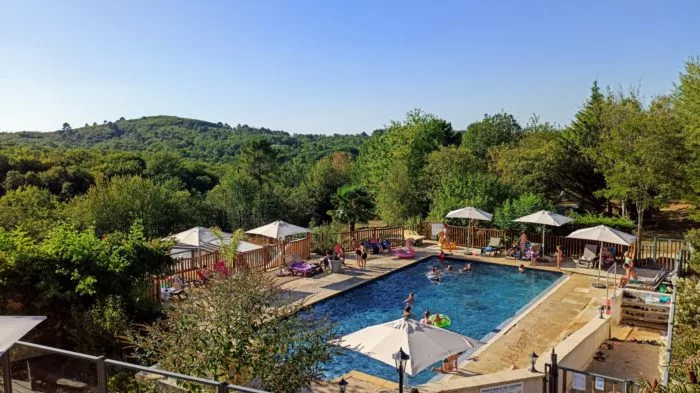 In the heart of the Dordogne, near the town of Sarlat, peace, nature and fun come together in a beautiful, but above all a very nice family campsite with the right ingredients for an unforgettable camping holiday.
The charming campsite Les Charmes is quietly located in a wooded area. This is a cozy site on 5 hectares with the right facilities that parents and children need for socializing and fun. The campsite has plenty to offer to keep you entertained, for example, it has a heated swimming pool that can be covered, a children's pool and an outdoor pool with slides. There is a restaurant, but pizza and snacks can also be picked up. You can also have a drink in the bar or relax in the comfortable sunbeds along the pool.
Download the map
Those who don't sit still are also rewarded, with a playground, jeu de boules court, tennis court, table tennis table and/or canoeing, walking or cycling outside the campsite. You can order bread rolls and croissants at the campsite for the next day. There is a small shop for basic necessities. We can't live without it anymore, so that's why there's free WiFi at the reception and the terrace. A nice campsite for families with smaller children, but even the older children have to make an effort not to be able to enjoy themselves.
If you choose camping site Les Charmes, then you go for a cozy and pleasant 'home' with a versatile, historic and above all very green environment. Both fit perfectly together, providing the right basis for an unforgettable fun holiday.
Facilities
General
Camping reception
Point of contact on behalf of Koko Holidays
Playground
Fishing nearby
laundry service
Library
Swimming
Heated swimming pool (also covered)
children's pool
fizz bench
Outdoor pool with slides
Sunbeds by the pool
Food and drinks
Restaurant (high season)
Bar
Pizza and Snacks (takeaway)
Restaurant (11 km from the campsite; Bistro, Brasserie, McDonald's, Pizzeria, Crêperie and various restaurants)
Internet
Free internet and WiFi (at hotspots)
No 100% coverage over the entire campsite
Shops
bread service
camping shop
Supermarket (11km from the campsite; Lidl, Carrefour, Aldi and more)
Sports
Tennis court
Jeu de boules court
table tennis table
Canoe trips nearby
Walking tours nearby
Bike rides nearby
Pets
Pets are allowed, but there are costs involved and must be communicated in advance.
(Max. 2 pets per accommodation)
Pets must be on a leash at all times.
A pet is standard based on a dog, if this deviates, this must be approved in advance.
National rules apply to traveling with pets, inquire about this.
Barbecue
Barbecuing with coal is allowed in appropriate weather conditions.
Barbecuing on gas is allowed using your own gas bottle.
Barbecuing on electricity is allowed with max. 1300 watts.
Attention!
The campsite may limit facilities in low season based on weather conditions and occupancy.
If a limitation has been reported in advance, we have noted this behind the relevant facility.
There may be costs associated with some facilities, if this is known in advance, we have indicated this.
Location
Campsite Les Charmes
Malartigue haut 225 Chemin des Charmes
24200 SAINT-ANDRÉ-D'ALLAS
France

Distance from Dover: 567 miles
Calculate route
Surroundings
Dordogne, which is popular with Dutch holidaymakers, is not so popular for nothing. The river of the same name flows here through the beautiful area with its wonderful nature and medieval treasures. In the area you can fully enjoy the varied natural beauty, wine slopes, fairytale castles, exciting castles, caves and many historic buildings and cities such as Sarlat, Domme, Monpazier, Racamadour and Bergerac.
Enjoy the delicious regional dishes here, such as fruit de canard, or the local wines. There are traditional markets every day. The Château de Beynac, Château de la Roque, Château de la Roque and Les Milandes are not to be missed. The stalactite caves of Lascaut are also a beautiful experience for young and old. This region is also ideal for sports enthusiasts. Hiking, cycling, horseback riding, survival, paintball, canoeing and golf are among the possibilities. A hot air balloon ride over the region is really exciting.
But of course the Dordogne river is the common thread through the landscape, which not only provides atmosphere but also, for example, boat and canoe possibilities. Small branches, low waters and playing areas provide a lot of water and swimming entertainment and give the typical greenery to the area.
Since the campsite is close to the somewhat larger town of Sarlat (+/- 10 km), this offers a range of extras! (Restaurants, terraces, ice cream parlor, shops, supermarket, rental, markets, culture, activities etc.)