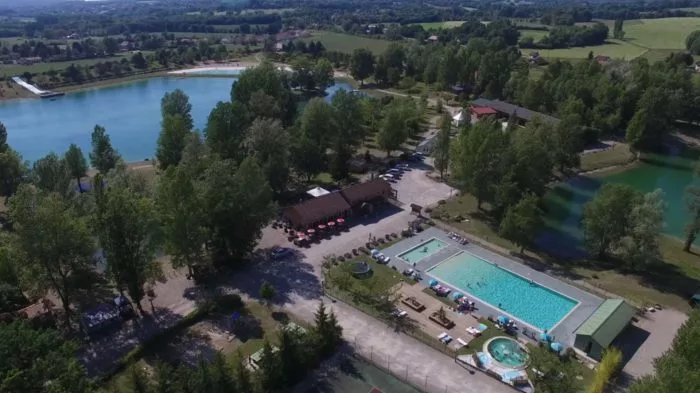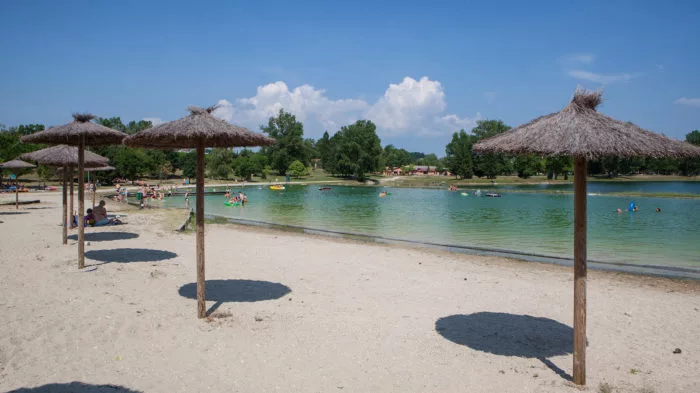 The campsite is aimed at families who can completely find themselves in the middle of nature, in a spacious environment, but above all who love fun. As the name suggests, there are 3 large lakes on the campsite. The lakes are open to fishing, but the largest of the three is used for more than just fishing. A part of this is equipped for swimming with a beach and umbrellas so that you can enjoy it during the hot days. Another section is for the super slide and the remaining section is for pedal boats and paddle boarding.
In addition to swimming in the lake, you can of course also just swim in the pool or relax in the jacuzzi as parents. There is entertainment in July and August, but there are plenty of other options to entertain you, such as mini golf, table tennis, (beach) volleyball, sports course, playground, jeu-de-boules, fitness room, etc.
Download the map
At the campsite itself, you will find many different trees which can also provide wonderful shade. The campsite is laid out in such a way that it is also possible to take a lovely walk, not only in between all the places, but also larger rounds around the lakes so that a longer round does not always have to be the same. The campsite also provides conveniences such as ordering sandwiches, wifi, bar, restaurant, launderette, etc. In short, a complete, neat and above all fun campsite for the whole family.
Facilities
General
Camping reception
Point of contact on behalf of Koko Holidays
Playground
Washing facilities
Swimming
Swimming pool
natural bath
Waterslide (from July)
Jacuzzi (adults only)
Sports
mini golf
Sports course
Table tennis
Pedal boat (for a fee)
Paddle (for a fee)
bike rental
Tennis
beach volleyball
Jeu-de-Boule court
Multisport field
Fitness (adults only)
Internet
WiFi (for a fee)
No 100% coverage over the entire campsite
Shops
Bread on order
Supermarket 7 km
Fishing
Fishing ponds (for a fee)
Fish pond for children
Animation
Animation (July and August)
Pets
Pets are allowed, but there are costs involved and must be communicated in advance.
(Max. 2 pets per accommodation)
Pets must be on a leash at all times.
A pet is standard based on a dog, if this deviates, this must be approved in advance.
National rules apply to traveling with pets, inquire about this.
Barbecue
Barbecuing with coal is allowed in appropriate weather conditions.
Barbecuing on gas is allowed using your own gas bottle.
Barbecuing on electricity is allowed with max. 1300 watts.
Attention!
The campsite may limit facilities in low season based on weather conditions and occupancy.
If a limitation has been reported in advance, we have noted this behind the relevant facility.
There may be costs associated with some facilities, if this is known in advance, we have indicated this.
Location
Campsite Les 3 Lacs du Soleil
Plaine de Serrière
38460 TREPT
France

Distance from Dover: 534 miles
Calculate route
Surroundings
Between Lyon and Grenoble lies the town of Trept in Rhône-Alpes. If people talk about a versatile green France, then you have come to the right place in the region of Trept. This region offers a lot of beautiful nature from mountains to forests and from lakes to caves. There is also plenty to be found in the field of culture, the place Morestel is known as the city of painters or many historic towns such as Cremieu are definitely worth a visit. A selection of the possibilities is, for example, a visit to the waterfalls of Glandieu, the caves of La Balme, Château de Serrières or the distillery of Chartreuse.
For the active, there is Vallée Bleue nearby, this activity park offers a variety of outdoor activities: swimming, canyoning, rafting, water skiing, boating, kayaking, flyboard, mountain bike, karting, fishing, e-quad etc. At a distance of 18 km you will also find the amusement park Walibi Rhône-Alpes (and Aqualibi) which offers enough fun for young and old in 1 or more days.
In addition to the days out, there are of course also the various markets, flea markets, restaurants, supermarkets, boutiques, etc. with which the days can be filled. In this region wine, cheese, chestnuts, nougat, truffles, lavender, olives are a selection of the local delicacies. In short, the real French France comes into its own here.
Accommodations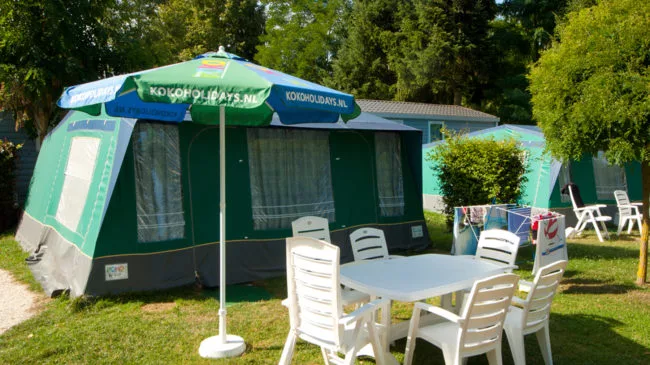 Fully furnished luxury bungalow tent (max. 6 people)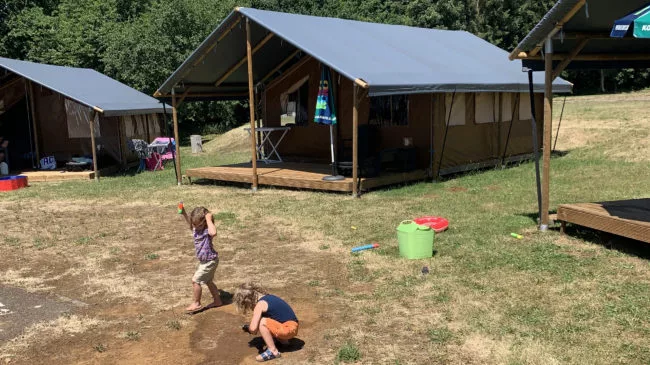 Fully furnished extra luxury lodge tent (max. 6 people)