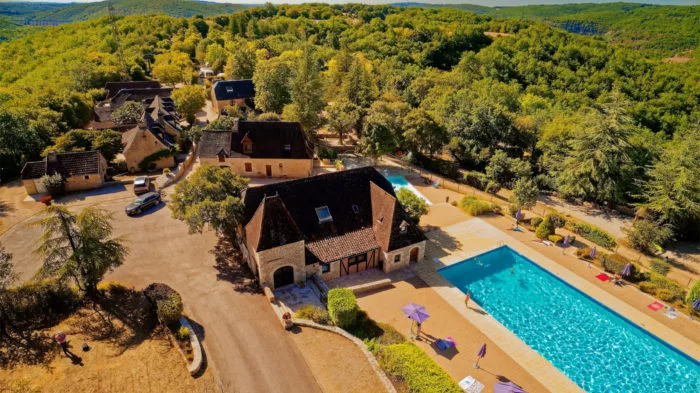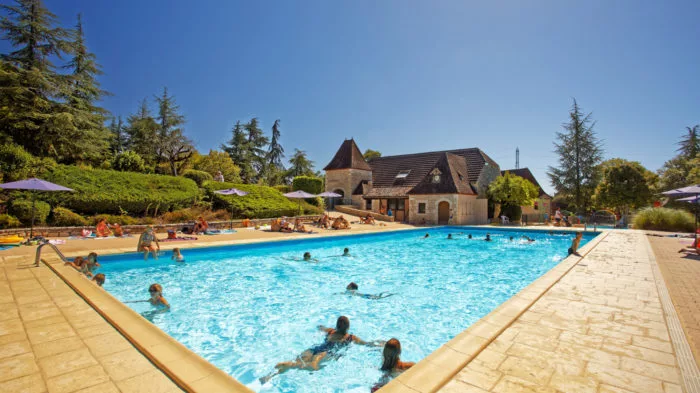 The 5-star Domaine de la Paille Basse campsite is located on top of a hill in a phenomenal wooded area. This gives you a beautiful location with a view of the fairytale Dordogne and the Lot. Together with the right facilities, this makes a top base for a super fun holiday.
Camping Domaine de la Paille Basse focuses on the whole family to have a fun and unforgettable holiday, parents, toddlers and teenagers all come here. Whether it's a paddling pool, fun songs and a playground for the little ones. Or slides, teen lounge, (teen) disco, game room and fun (sports) activities for older children. The parents simply join in, of course, but also enjoy the beautiful view, the pleasant atmosphere and the delicious food and drinks. literally something for everyone and that makes this campsite not only very pleasant, but also very unique with its location.
Download the map
The campsite is located in a green wooded area where three medieval farms have grown into a fully-fledged 5-star camping location after restoration. In the middle of the green heart of the Lot, near the Dordogne river, everything comes together. Active and passive are choices that fit perfectly together here. With attractions and facilities close by, this location lacks nothing to make great memories.
Facilities
General
Camping reception
Point of contact on behalf of Koko Holidays
Laundry service
Major sporting events on the big screen
Various tours can be booked at the reception
3 playgrounds for children of different ages
Swimming
2 swimming pools, 1 of which is heated
Paddling pool, heated
Slide with 4 rows
water playground
Food and drinks
Bar
Restaurant
Takeaway (pizza, chips, sandwiches, paninis, drinks; July and August)
Animation
Animation (July and August)
Television room
Several hiking trails on site
Teen Lounge area, open twice a week in July and August
(Teen) disco, 3 times a week in July and August
Football, beach volleyball, basketball, table tennis, tennis, water polo, volleyball, pétanque tournaments
Various games: pool relay races, egg race, sack races, div. relay races; waiter race etc.
Walk through the farm before breakfast (duck related products)
Canoe trips with participants from the campsite
Organized excursions
Evening shows and games: Karaoke, quizzes, bingo, concerts, clowns, balloon artists, games
Walk to a tasting in a nearby brasserie
Water aerobics
morning gym
Morning jogging
Movie screenings
Game room (billiards, pinball, table football, video games)
Internet
WiFi (for a fee)
No 100% coverage over the entire campsite
Sports
2 tennis courts
basketball court
Beach volleyball court
Grass football field
Tennis training wall
Jeu de boules field
4 table tennis tables (2 inside and 2 outside)
Shops
Mini supermarket
bread service
Supermarket (8 km from the campsite; Supermarché Casino)
Supermarket (9 km from the campsite; Lidl)
Pets
Pets are allowed, but there are costs involved and must be communicated in advance.
(Max. 2 pets per accommodation)
Pets must be on a leash at all times.
A pet is standard based on a dog, if this deviates, this must be approved in advance.
National rules apply to traveling with pets, inquire about this.
Barbecue
Barbecuing with coal is allowed in appropriate weather conditions.
Barbecuing on gas is allowed using your own gas bottle.
Barbecuing on electricity is allowed with max. 1300 watts.
Attention!
The campsite may limit facilities in low season based on weather conditions and occupancy.
If a limitation has been reported in advance, we have noted this behind the relevant facility.
There may be costs associated with some facilities, if this is known in advance, we have indicated this.
Location
Camping Domaine de la Paille Basse
La Paille Basse
46200 Souillac
Frankrijk

Afstand vanaf Utrecht: 979 km
Calculate route
Surroundings
Wanneer men kiest voor een gunstig klimaat en mooie ongerepte natuur, historische bouw als kastelen en rivieren springen er twee gebieden meteen naar voren, de Lot en de Dordogne. Laat deze camping er nou net voor zorgen dat daar tussen niet gekozen hoeft te worden, want het domein ligt precies op de grens van de 2 geweldig groene regio's.
Eigenlijk hebben beide gebieden geen introductie nodig, maar waan je eens in de middeleeuwen als hier op vakantie gaat. Kastelen, burchten en andere middeleeuwse gebouwen zijn hier eerder de regel dan een uitzondering. Maar je kunt hier zelfs nog verder terug in de tijd, met grotwoningen, muurschilderingen in de grot van Lascaux en alles bij elkaar in het Nationaal Prehistorisch Museum in Eyzies de Tayac.